Dr. Elise Desonier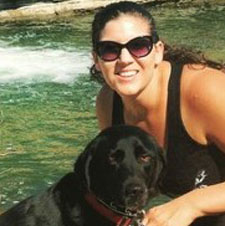 Dr. Desonier graduated from Louisiana State University in 2015.
She has since worked in Texas and Alaska before deciding to head back to Portland and work for us. Her Veterinary interests include exotic medicine, wildlife medicine, ultrasound and surgery. Her background is varied between animal clinics, zoo medicine, shelter medicine, and aquatics.
In her spare time Dr. Desonier enjoys traveling to new places as well as kayaking and hiking with her canines, Cowboy and Stella.
Click below to learn more
Degrees
Bachelor of Science, Natural Resource Ecology and Conservation Management, Louisiana State University, Baton Rouge, LA, 2011
Doctor of Veterinary Medicine (DVM), School of Veterinary Medicine, Louisiana State University, Baton Rouge, LA, 2015
Associations / Memberships
American Veterinary Medical Association 2011-present
Veterinary Information Network Forum 2015-2017
Texas Veterinary Medical Association 2015-2017
Association of Avian Veterinarians 2016-2017
Research
Developed, conducted and completed a biomedical research project, titled "Efficacy of Antibiotic Therapy for the Treatment of Edwardsiella ictaluri infection in Zebrafish, Danio rerio." Manuscript in preparation. Poster presentations at the 2012 Merial-NIH National Veterinary Scholars Symposium and at Phi Zeta Research Day at the LSU School of Veterinary Medicine. It was presented by my mentor, Dr. John Hawke, at the annual meeting of the World Aquaculture Society in Nashville, February 2013.
Licensures
DEA and DPS licensed
Oregon State Board Certified, February 2017
Alaska State Board Certified, February 2016
Texas State Board Certified, August 2015- currently hold an inactive license
Passed National Boards, April 2015
Educational Courses
Wildlife Hospital of Louisiana Public Presentations about raptors, 10 total since April 2012
Research Poster Presentation: "Efficacy of Antibiotic Therapy for the Treatment of Edwardsiella ictaluri infection in Zebrafish, Danio rerio.", 2 times in 2012